Hallo Ihr Lieben, ich freue mich sehr, denn ich wurde von der lieben Kylie und Ihren bezaubernden Teammädels als "Spezial Guest" bei Ihrem Crazy Crafters Blog Hop eingeladen und das Thema lautet "Kopiert meine Projekte".
For international readers, please use the orange translate button in the right bottom of my website, thanks.

Das bedeutet das jeder der beim Blog Hop mitmacht, sich irgendein Projekt, aus meinen hier auf meinen Blog gezeigten Werken aussucht und dieses nach seinen eigenen Vorstellungen kopiert und in einem Beitrag vorstellt.
Ich bin schon ganz gespannt welches Projekt sich die Mädels ausgesucht und nach gewerkelt haben und ich muss ehrlich gestehen, es ist garnicht so einfach, eins seiner eigenen Projekte auszusuchen :zwinker: und noch einmal in ähnlicher Form nach zuwerkeln.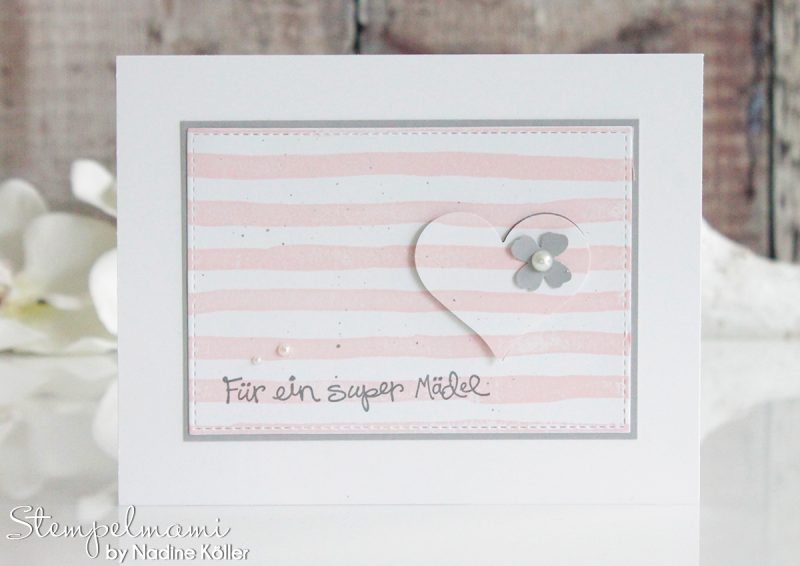 Ich habe mich für diese Grusskarte entschieden, denn sie gefiel mir einfach zu gut 🙂 .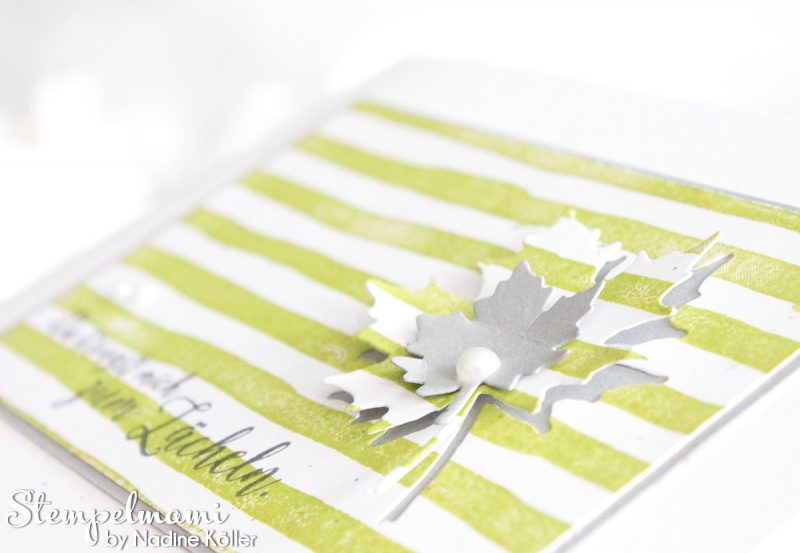 Für meine kopierte Karte habe ich die Farben, Flüsterweiß, Schiefergrau, Anthrazitgrau und Limette verwendet und auch ein neue Stempelset bzw. Produktpaket kam zum Einsatz . Es nennt sich "Jahr voller Farben" und ist traumhaft schön, ich liebe es schon jetzt :zwinker: .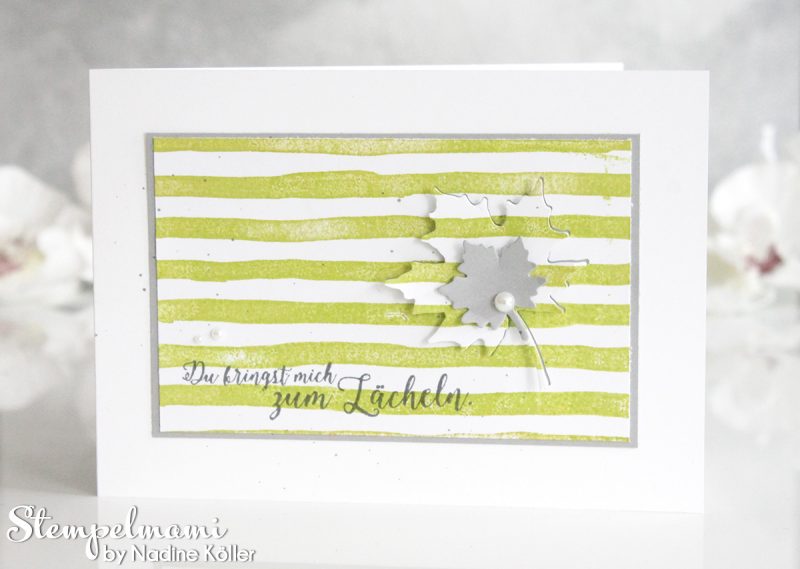 Die Auflegerkarte habe ich wieder mit dem wunderschönen Brushstrokes Hintergrundstempel (ich bin so froh das dieser auch im neuen Jahreskatalog weiter erhältlich ist :zwinker: ) in Limette bestempelt und  anschließend kam wieder der Color Spritzer mit dem Stampin Write Marker in Schiefergrau zum Einsatz, denn die kleinen Sprutzler geben so einer simplen Karte meistens noch den letzten Schliff
.
Tipp: Wenn Ihr mit einem goßen Hintergrundstempel arbeitet, so legt diesen am Besten, mit dem Stempelmotiv nach oben zeigend vor Euch hin. Färbt ihn dann mit einem Stempelkissen ein und legt dann den zu bestempelnden Farbkarton auf das Motiv (ist gerade bei diesem Streifenmotiv sehr hilfreich
). Danach legt Ihr ein Schmierblatt auf den Farbkarton, streicht mit der Handfläche feste darüber und hebt den Farbkarton vorsichtig ab.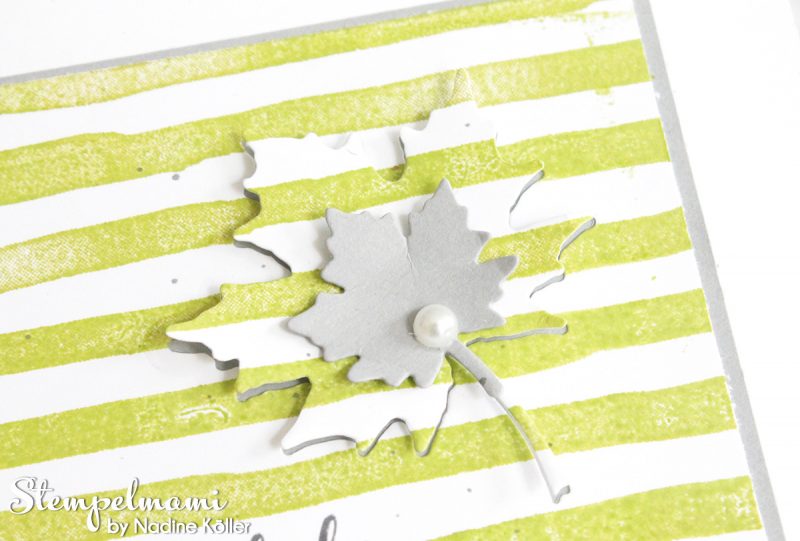 Nachdem ich die Sprutzler aufgesprüht habe, habe ich den Spruch aus dem Stempelset "Jahr voller Farben", in Anthrazitgrau aufgestempelt und anschließend mit der Big Shot und den Thinlits Formen "Aus jeder Jahreszeit" die wunderschönen Blätter ausgestanzt und mit 3d Klebepads in die ausgestanzte Lücke geklebt. Dadurch dass die Auflegerkarte direkt auf der Rahmenkarte klebt, kommt das erhabene Blatt, so richtig schön zur Geltung :love: .
Ich bin mir ganz sicher, das Euch dieses neue Produktpaket, welches bald erhältlich ist, ich weiß einige von Euch zählen schon die Tage 😉 , Euch allen super gefallen wird, denn wie der Name schon sagt, könnt Ihr dieses zu jeder Jahreszeit verwenden :love: !
Jetzt wünsche ich Euch allen noch einen schönen Tag und ganz viel Spaß bei diesem besonderem Blog Hop 🙂 ! Ein herzliches Dankeschön geht noch einmal an Kylie und Ihre Teammädels für die Einladung und bin schon ganz gespannt welche meiner Projekte die Mädels alle kopiert haben :love: !
Viele liebe Grüße sendet Euch,
Eure Nadine
****************************************************
Teilnehmerliste Crazy Crafters Blog Hop